Synopsis:
Seventeen-year-old Tracy Miller met the love of her life...thirty years after her own death.
Tracy was working at the House of Horrors at the Amazing Lands Theme Park when the fire broke out. Instead of running, she lost her life trying to save eleven-year-old Mack. Now thirty years have passed, and suddenly everything changes with the arrival of two new ghosts: a little girl named Ashley and a cute seventeen-year-old boy named Josh.
Josh would do anything for Tracy, but can he help her let go of the past and accept his love?
RIDE OF YOUR LIFE is a bittersweet, romantic, YA ghost story that was inspired by a true event: the Great Adventure Haunted Castle fire, which killed eight teenagers in 1984. It is a fantasy novel about undying love, and it won third-place in Smart Writer's Write It Now (W.I.N.) contest in the YA category, which was judged by Alex Flinn, the author of BEASTLY and CLOAKED.
In the ghost world, what you believe is what you get. The only question is...do you believe in love?
Hang on. Love can be as terrifying as a roller coaster, but it could also be the RIDE OF YOUR LIFE.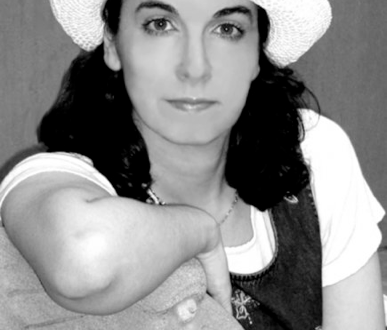 AUTHOR INTERVIEW:
Quickies:
I know it's a cliché, but Disney World, specifically swinging
on a hammock at the Caribbean Beach Resort while looking up at white puffy clouds in the sky.
 2. Best C
hristmas present?
That would be Hanukkah, and I guess it was a Snoopy doll I picked out when I was about nine. It was very cuddly.
The Hitchhiker's Guide the Galaxy
, and
The Last Unicorn
Ooh, too many. The Big Bang Theory, Eureka, Doctor Who, Firefly... I could go on and on.
Shevi
is
my nickname. My full name first name is Bat-
Sheva
.
 8. Favorite writing spot?
On a laptop on a quiet desk or table in a mostly empty room with a window, good lighting, and
air conditioning. Sometimes I like some music.
My mom's spaghetti and meatballs
It changes. Right now, it's "Reality:
w
hat a concept!" I miss Robin Williams.
 13. A bunch of small gifts or one big expensive one?
It's not about the price tag.
I can be happy with a cool
windup toy or a trip to a free event I'm excited about; a
nd a big expensive present that
doesn't suit me is more likely to make me sad.
I'm not that good at standing up for or selling myself. I ticked off one of my editors at the newspaper where I used to work
when I didn't ask for a big enough raise. She was right.
Neither.
Reese's
Pieces all the way.
You can buy this book on Amazon!!